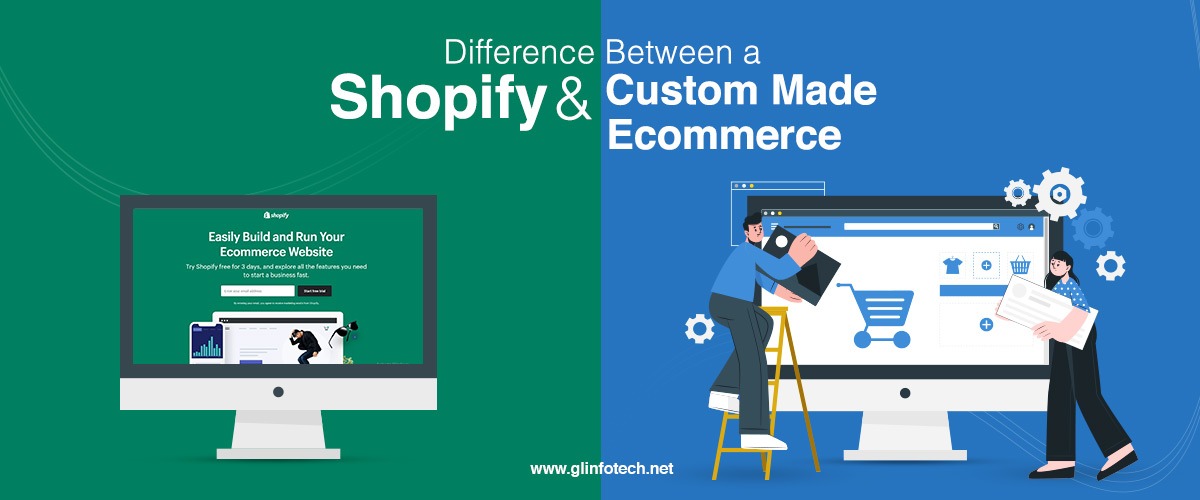 Back from 2021 onward, exactly say on the time of the covid pandemic. It was the time best for e-commerce businesses. Best time to start E-commerce business into well-modified form. It is a great opportunity to enter into the e-commerce playground for now. If you haven't joined yet to get the E-commerce advantage and Shopify's advantage as well.
Now,
Are you confused, about making a featured store for your business whatever it is? Certainly, there are so many wrangles between the Ecommerce advantages and Shopify's advantages based on the only question that which is best for Ecommerce. So, considerably make a proper insight before the investment by paying attention to both ilks by determining pros and cons.
The Pivotal Difference
Probably, you might have longingly to know about the difference between Ecommerce advantages and Shopify's advantages. That's why you are reading this blog, as my assumption.
I'm not making it more lengthy towards the subject. As you know basically the difference comes from the purpose of the website you have been using for your business.
Shopify can be derived as software as a service, which is not indeed to install the software or app and can access the services through the internet and can be used on a pay-as-you-go basis. Within this short period of time itself, most businesses build their online store on this strongest platform which benefits E-commerce.
Meantime, if you wish to have a website with not very uncommon but the latest from all out there regarding features, you can go for a custom-made E-commerce website and make an easier comparison about the customizing functionalities. Let's travel along your horizon on your business journey to focus on the E-commerce perspective.
An easier way to compare two ends such as E-commerce vs Shopify's advantages.
There are some scenarios that can determine the user effectiveness of each Ecommerce advantage and Shopify's advantages. For a startup firm, Shopify will be a more painless method to propagate your business. Let's dive into these sections in an elaborated way.
Proficiency in coding
 A Shopify website can easily help to harvest an online store with all the mainly required features. Without having any coding knowledge you can easily create an online store from scratch with enabled features and designs, which provides a back-end process step by step to create the best E-commerce website.
On the contrary, if you need to create a custom-made Ecommerce website, you must have coding knowledge or you will have to make a quote with the software or web development team to meet the requirements about the expectations of your website which could be exclusively customizable.
Domain and hosting requirements
In Shopify, the domain and hosting are provided along with the theme purchase whereas, in a custom-made e-commerce website, you can purchase at your own risk or can be handed over to any web-development company.When you use Shopify, the domain name will be .myshopify.com or you can purchase it from Hostgator, Bluehost or any service provider. For custom-made e-commerce advantages, you can get assistance from developers according to your requirements upon paid service.
Content management system
It is the most significant aspect for any website whether it is for e-commerce advantage or Shopify's advantage.
Merchants who use Shopify are able to change their website layout at any time with pre-built e-commerce templates. It also provides a more flexible working space or dashboard that lets you know more updates and future marketing techniques.
For custom-made e-commerce websites also CMS platform has to be integrated to avail the full package of e-commerce-related features.
How long will it take to run an online store best for e-commerce?
This is a great question to mortar your business on a strong foundation. Meanwhile, you start a business literally in an immediate setup and also as a start Shopify is the best option to win since it's SEO friendly and can be triggered by google algorithms easily. Within some easy steps you can establish your store, say like, template selection, payment gateway integration, domain and hosting can go smoothly. If you are dubious, you can go for a free trial before a final decision.
Creating your own custom-made e-commerce website development, it will take account time for coding, integration, SSL installation, domain purchasing and hosting etc. SSL certificates can be selected according to your needs such as AlphaSSL wildcard, or Comodo PositiveSSL wildcard as we assume here that you are running an eCommerce store.